About Carolina Canine Advisor
Top Quality Dog Training Services 

About Carolina Canine Advisor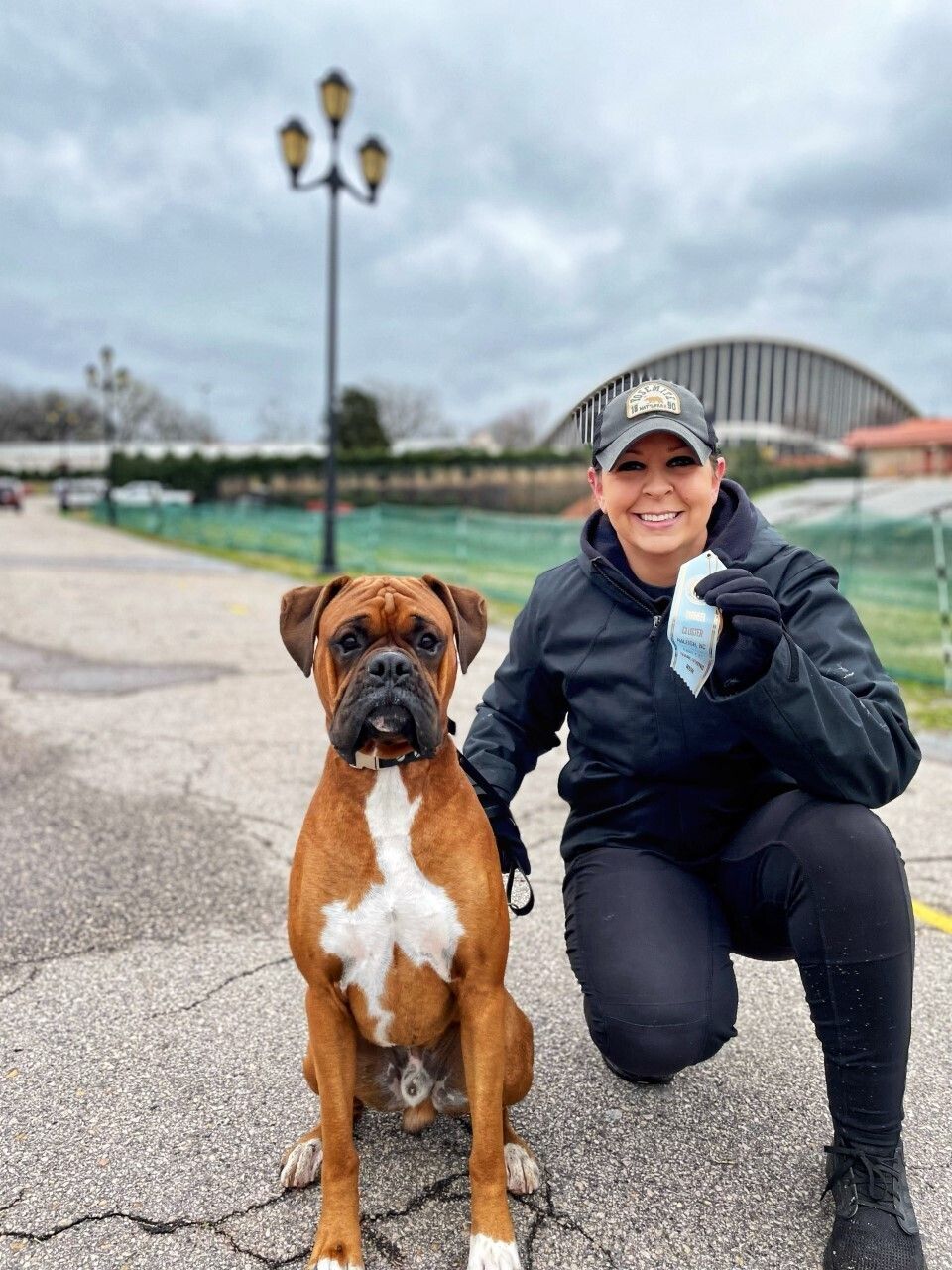 Carolina Canine Advisor is owned and operated by Raechel Longo.  Raechel has been working with animals for over a decade. Initially she started working in a dog kennel to gain experience.  She then went on to gain further knowledge and became a veterinary technician.  After a few years she realized the veterinary field wasn't her true passion.  Raechel then went on to manage one of Chicagoland's largest Pet Resorts which gave her first hand experience with thousands of different dog breeds and temperaments.  She went on to gain further knowledge and apprenticed under other trainers and went through many different dog training seminars.

Raechel initially got into training when she got her first Boxer, Boomer 15 years ago.  Boomer has been long gone but he paved the way to show Raechel the importance of having a strong, healthy bond between human and dog.  Raechel currently has 4 dogs, 3 Boxers and a Mini Dachshund.  Which 1 of her Boxers is her Service Dog.

Originally from Chicago, she moved to Clayton, North Carolina in 2019.  Immediately following her dream and opening up her own dog training business, Carolina Canine Advisor.  Raechel believes that there are many different ways to train dogs.  Just like people, no two dogs are alike and each dog learns differently.  Which is why each lesson is specifically tailored to meet each client's needs.

She is a volunteer trainer for Vets to Vets United, which is a nonprofit organization which pairs veterans with disabilities with rescued dogs.  Raechel is a member of the IACP (International association of Canine Professionals) which was established in 1999 to develop and promote the highest standards of professional and business practice among canine professionals.  Raechel is also an American Kennel Club Canine Good Citizen (CGC) Evaluator.  In addition, Raechel is a volunteer for Carolina Boxer Rescue and loves to help them whenever she has the chance.
Raechel has two true passions.  One is working with behavior modification cases.  Seeing a chaotic unbalanced family transformed into a happy coexisting family is very fulfilling to her. The second is training Service Dog's.  Training a dog to help a person that needs them is very cathartic for Raechel. 
Training to Suit You and Your Dog's Needs! 
Carolina Canine Advisor provides professional dog training, specializing in obedience and behavior modification. We offer private lessons in your home. Our mission is to create healthy, balanced bonds between you and your dog.

We understand the challenges of having to teach your dog obedience and socialization techniques during your busy schedule. We work diligently to ensure that we are following the best training practices for your dog. Contact Carolina Canine Advisor today to learn more about our services. We look forward to hearing from you!
★★★★★
"Rachel has turned my little nut job into a well behaved little bundle of love. A pleasure working with her and every session was helpful beyond measure. I would recommend her to everyone who wants a more obedient and enjoyable best friend."
- Valerie, Facebook Review
★★★★★
"Raechel has been a lifesaver! My 6 year old female lab was running the show and had a major attitude. She has worked with us (my dog and me) so that our stress level has been reduced to almost nothing and our walks are enjoyable. She's proven that she can teach a more mature dog new tricks and undo the bad habits of an owner! Thank you Raechel!"
- Libby, Facebook Review
★★★★★
"Great to work with! Raechel is knowledgeable, patient (with the pups AND their parents), friendly and has tons of tips/ideas to help you along. Would recommend 100%"
- Sandi, Facebook Review
★★★★★
"Raechel is awesome!! She helped me with my boxer puppy Maple and I can't say enough good things about how much help she was to us!! So helpful and was always available to answer any questions in between sessions."
- Michelle, Facebook Review
★★★★★
"Raechel is an excellent trainer, she is very patient and understanding to each dogs needs she has helped our lab Baylee really grow and we can't wait to continue to further her training with tips and techniques Raechel has given us! Would definitely recommend for anyone seeking a dog trainer!"
- Toni, Facebook Review
★★★★★
"Spock, our seven year old lab mix, and I have graduated with Raechel and Carolina Canine Advisor. We moved to Clayton subdivision about a year ago from a 15 acre tract of land, where Spock was "Queen of it" and never had to be leashed. Her life changed dramatically, and she became "Queen of the house," but one of many neighborhood dogs. She was not impressed. We struggled with her leash aggression (only with other dogs) for a year. I signed up with Carolina Canine Advisor and it is the best pet parent decision I have ever made. We wanted to address her leash aggression, lunging and barking at other dogs. And, also, we wanted to teach her to stay by my side and not pull me along the road. Rachel listened carefully to each of our concerns and was confident she could help us. Improvements began with the very first lesson. After five lessons, not only can I tell the difference, but so can my neighbors and family members who walk with us. Spock stays close to my side, she does not cross my path often, and she has made great strides in reducing her leash aggression. Rachel is a patient and professional educator of humans and canines. She's helped me learn to be very consistent, issue commands with the expectation of compliance, and, most importantly, helped me gain more confidence in walking Spock and knowing that I am in control of her behavior. I am completely satisfied. I also know that if I have questions I can contact Rachel and she will advise us any time. Spock and I are happy graduates."

- Patti, Facebook Review
Have a question? Want to learn more about our services?
We would love to hear from you. Send us a message using the form below.